Shadra (First Phase)

Shadra using Scale.
Bestiary #
224
HP
Alignment
Fire/Water/Earth/Wind/Wood/Light/Dark (Changes)
Level
58
Habitat
Chromagar Cave
Drops
None
Bestiary Entry
Shadra has transformed into a giant, sun-devouring monstrosity. Legends say that when the sun has been consumed, a new universe will be born.
Bira Rewarded
0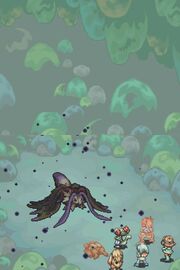 Shadra (Second Phase)

Shadra's final form
Bestiary #
224
HP
Alignment
Light/Dark (opposite of player's)
Level
58
Habitat
Chromagar Cave
Drops
None
Bestiary Entry
Shadra has transformed into a giant, sun-devouring monstrosity. Legends say that when the sun has been consumed, a new universe will be born.
Bira Rewarded
0
Shadra is the final boss of the game Magical Starsign. It is one of only four enemies to have varying alignment, and the only one to change its alignment mid-battle. It is also the only boss to have multiple phases. It is the mature form of the Giant Larva.
Interactions with the Player
Edit
Shadra is the final boss in which the player must defeat otherwise it will devour the sun and the entire universe.
Shadra is a tough opponent to fight against. It is able to change its alignment, resulting in the attacking focus to switch from one player to another. It has a large amount of HP. The battle has two phases.
First Battle
Edit
Shadra is a large butterfly at this stage and switches its Starsign.
Second Battle
Edit
Shadra is a large, ugly creature that is ready to devour the sun. It remains the opposite Starsign of the main character throughout the battle.
Appearance
Edit
In the first phase, Shadra is a large butterfly with a blue-green body, a white mane, and black eyes with white pupils. It has large purple wings and purple attenae. The rest of its body is a sort of creamy brown. When it shifts its alignment to a different element, Shadra's wings take on a hue that matches that element's color. In the second phase, it becomes an ant-like monster. In its final form, Shadra has four legs, large blue-green attenae with purple bases and a massive, bulbous abdomen. The abdomen is red-brown and orange with cordyceps-like growths coming out of it, and a glowing yellow mark shaped like an eye right on the front of it. It has blue-green pupiless eyes and creamy-brown body, head and legs. Its attenae flap when it casts a spell.
Name Origin
Edit
Shadra originates from the word "shadow", just like the planet on which it resides.