Biscotti is the principal of Will-O'-Wisp Academy and a legendary magician. It is said that he learned magic from the
Enigma
, and knows the secret to immortality.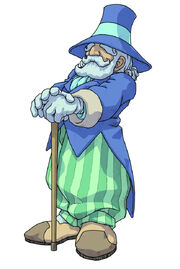 In Magical Vacation
Edit
Before the events of Magical Vacation take place, Biscotti sets out to find gifted magicians and invite them to the Will-O'-Wisp Academy after the Three Day War.
In Magical Starsign
Edit
Biscotti sends Miss Madeline to Puffoon in search of Kale. When she does not return and months have passed, he regrets sending her away and sadly wishes, "It should have been me," perhaps hinting of his knowledge of her capture.