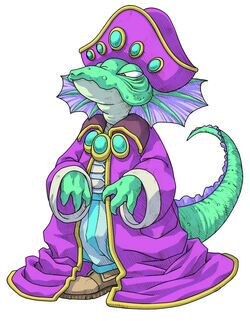 Lord Persimmon is a self-proclaimed henchman of
Master Chard
, who is often seen with
Caldarroste
. Despite his high opinion of himself, the Space Police don't even know who he is and one officer notes that he is really Chard's 432nd-in-command. He is known to dislike
Salamanders
.
Appearance
Edit
Persimmon is a seemingly reptilian-amphibian wearing a large purple hat decorated with five blue jewels with a matching coat and blue and white striped pants. He has a long tail frills around his neck and a row of purple fins along his tail.
While his species is never outright stated, Caldarroste refers to him as a crocodile at one point.
In Magical Starsign
Edit
Persimmon is first seen on Gren, in the Salamander Inn.
Name Origin
Edit
Persimmon is an edible fruit.